Erik Kabik :: About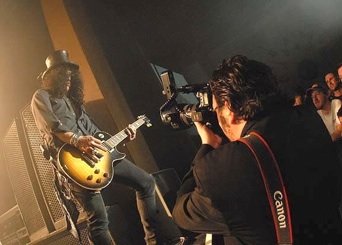 Erik Kabik is an acclaimed photographer specializing in entertainment, architecture, culinary, celebrity and special events within the editorial, lifestyle, and commercial sector. Bringing more than 20 years of experience and expertise to his craft, he founded Kabik Photo Group in 2014 and continues to expand his services across the United States and beyond.
Splitting time between Las Vegas and Hawaii, Erik's internationally-renowned clients include Caesars Entertainment, The Cosmopolitan, Wynn Las Vegas, Venetian/Palazzo Las Vegas, Hard Rock Hotel & Casino, Clear Channel, Live Nation,
AEG
Presents and more. His work has been published in thousands of outlets including GQ, Rolling Stone, People and
USA
Today.
While based in the entertainment capital of the world, Erik has had the opportunity to cover all facets of the celebrity, dining, and entertainment mecca. Whether shooting The Rolling Stones, Gordon Ramsay, Carlos Santana or Jimmy Kimmel, he connects with his clients to capture behind-the-scenes access, their authentic brand ethos, and create one of a kind portraits and imagery that are featured in national campaigns, editorial, album covers, and more.
Erik's passion for music and storytelling as a photojournalist was initially sparked while shooting the Grateful Dead in the 1990s. Erik relocated to Las Vegas from Southern Oregon in 1996 and quickly became the go-to photographer for major resorts, casinos, entertainers, and news media. He co-founded Las Vegas Stock Photography Agency and Digistock Design in 2005 and spent several years as Director of the Retna Photo Agency before launching his own photography company.
Erik earned his Bachelor's Degree in Communications with an emphasis in Photojournalism and Fine Art Photography from Southern Oregon University and has traveled the world as a photographer. In addition, his live music photo collection, Classic Rock For The Future: Vol 1, has been on display in John Varvatos stores throughout the United States.
Please visit kabikphotogroup.com to learn more or email
booking@kabikphotogroup.com
to connect directly.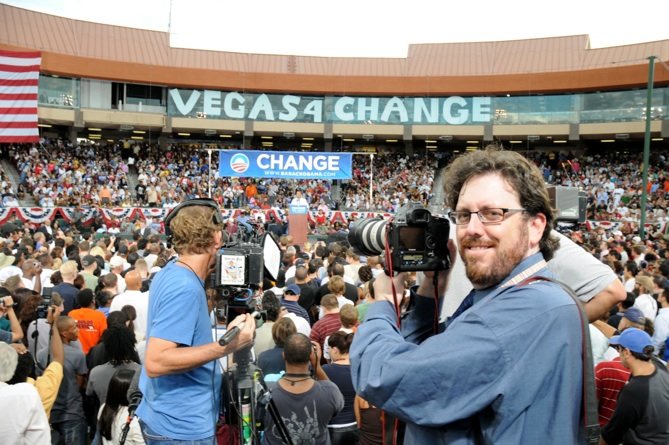 Message from Erik:
Thanks for visiting my site! I strive to consistently build my library of work, and I genuinely appreciate your feedback and communication about what you see here. After all, photography should create a dialog, so I'm always excited to talk about the work.
My photographic philosophy is simple…I live between the entertainment capital of the world (Las Vegas) and Paradise (Hawaii), so I capture as much as I can with an emphasis on my passion for live music, natural wonders and the world of food and beverage. I do this through freelance and assignment work. Shooting is my chance to capture a pop culture moment in time – and to add to the overall historical record of artistic visions and personalities. I look forward to working with you on your next project or event. In the meantime, please check back for updates of my work and stay in touch with me through my site.
All The Best!
Erik
CONNECT
:
Connect with Erik through these social networking sites:



PRINTS
:
NEW
!: Limited Edition Fine Art Prints by Erik Kabik: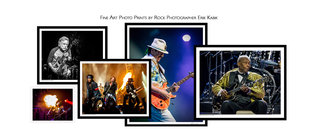 PRESS
:
Las Vegas Review Journal:
Music photographer Erik Kabik reflects on 20 years in Las Vegas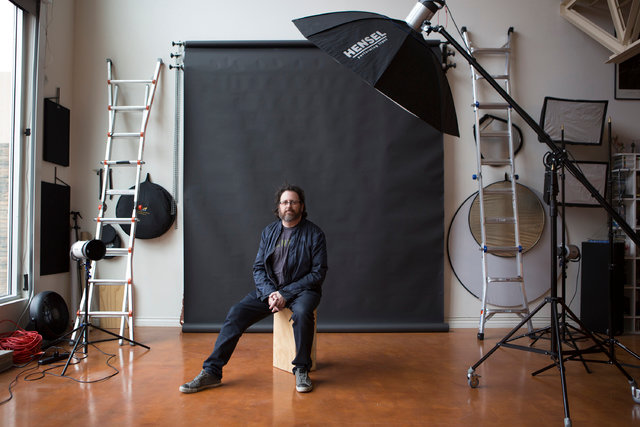 Seven Magazine:
Seven Questions for Erik Kabik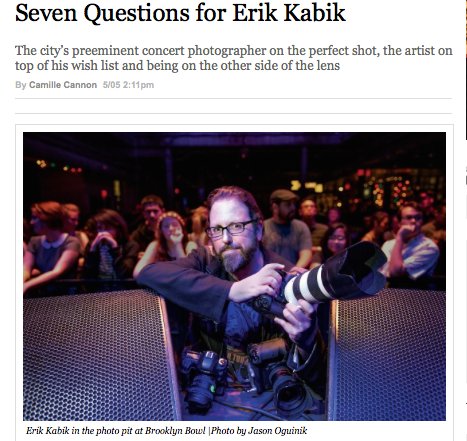 Watch Erik on
MORE
on Fox 5: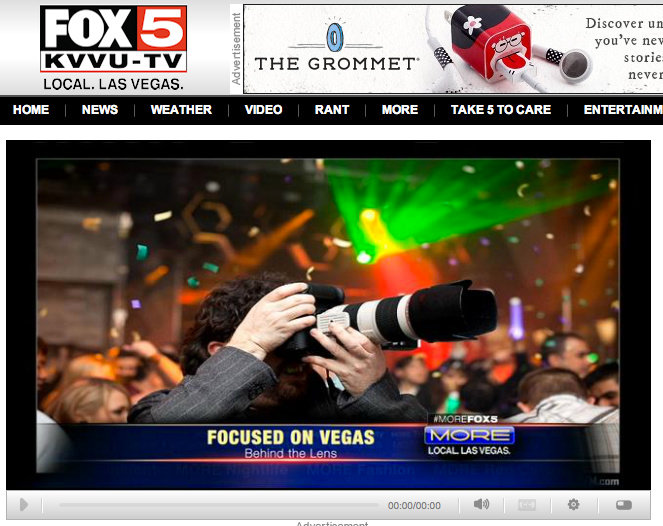 Erik Kabik: Behind The Lens
Watch Erik on OK! TV: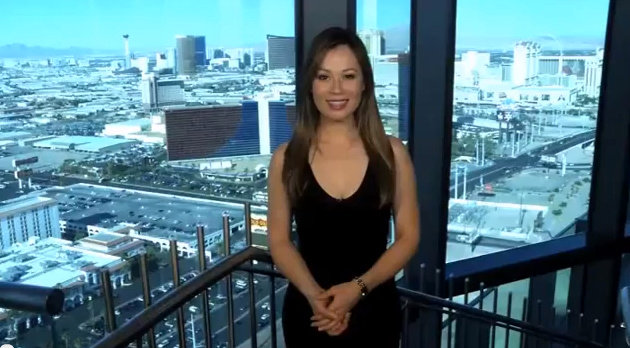 Erik Kabik: OK! TV fetaure
Medium:
Documenting The Grateful Dead Way Of Life: Erik Kabik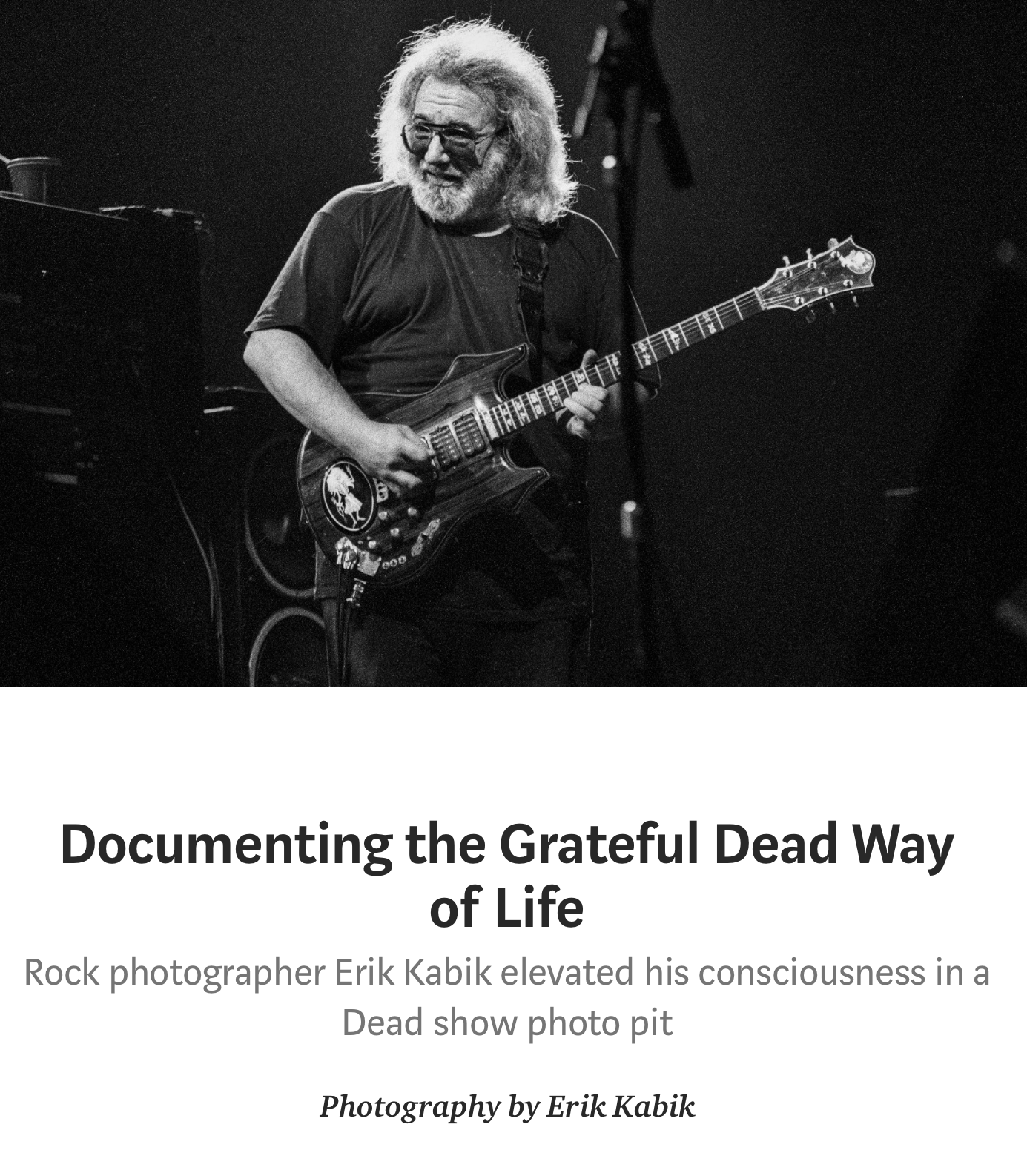 Las Vegas Weekly:
Photographer Erik Kabik Turns The Lens Back On Himslef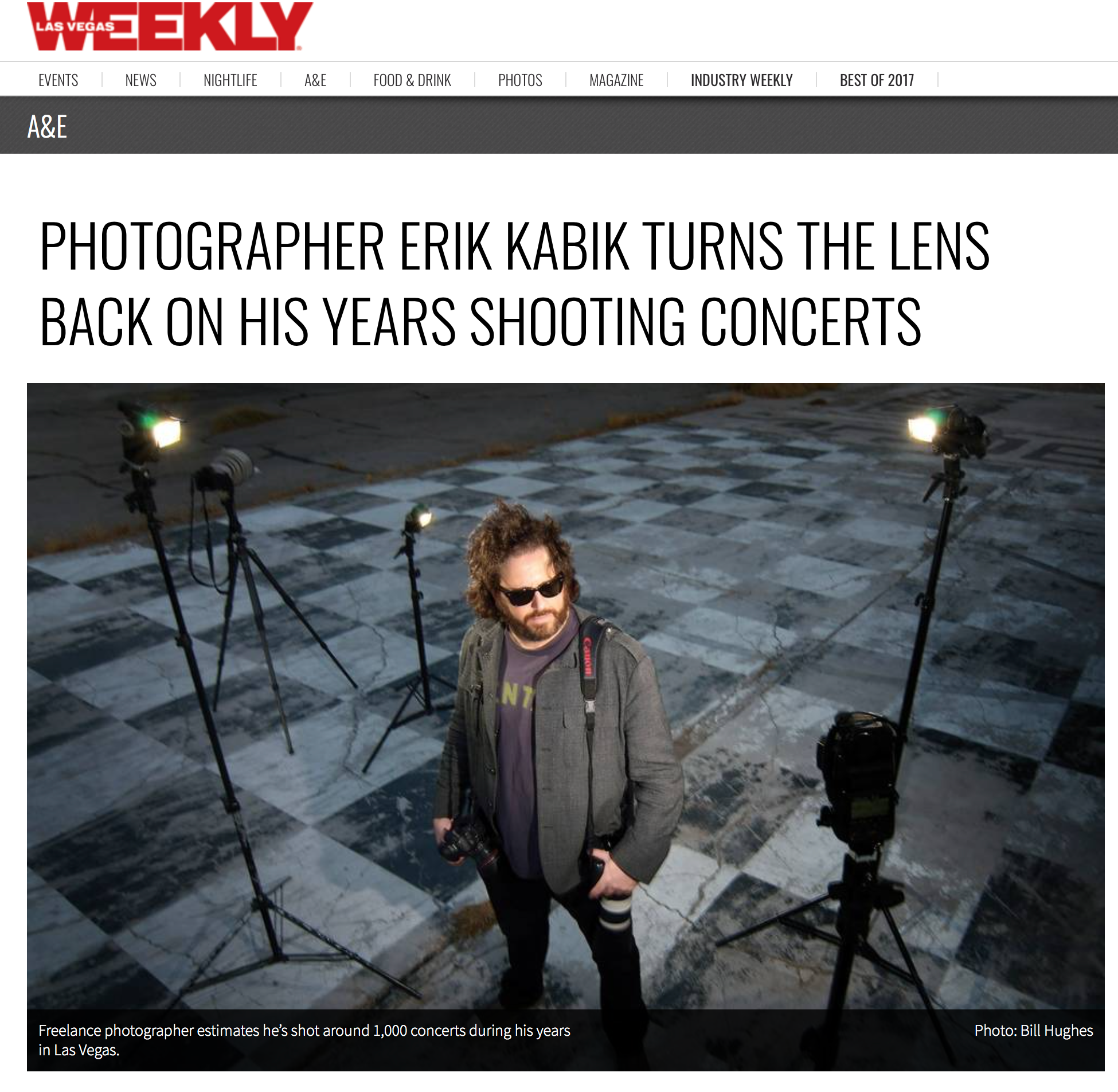 Las Vegas Sun:
Photos One Year at The Joint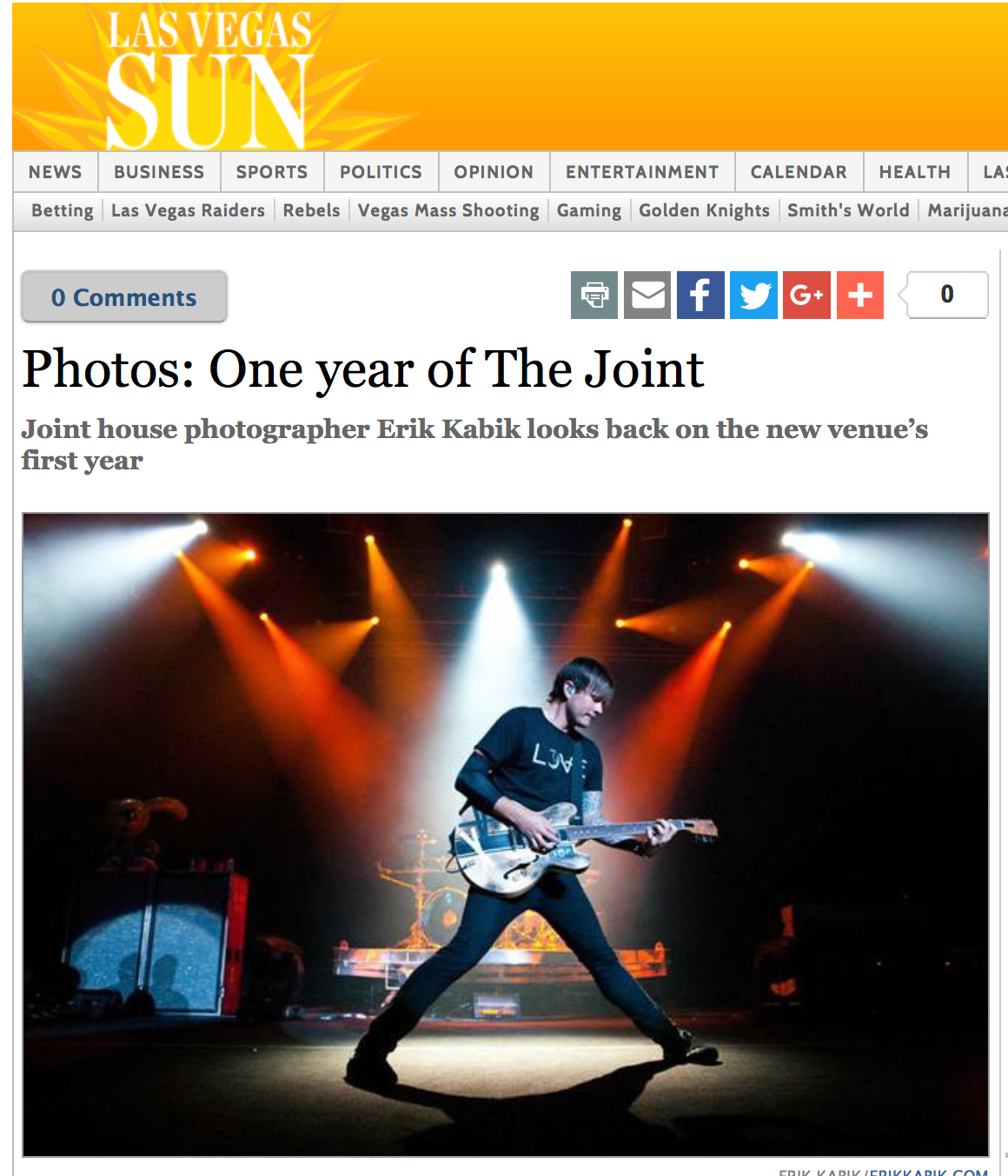 Vegasnews:
Erik Kabik Featured in Concert Photo Show at Mandarin Oriental Hotel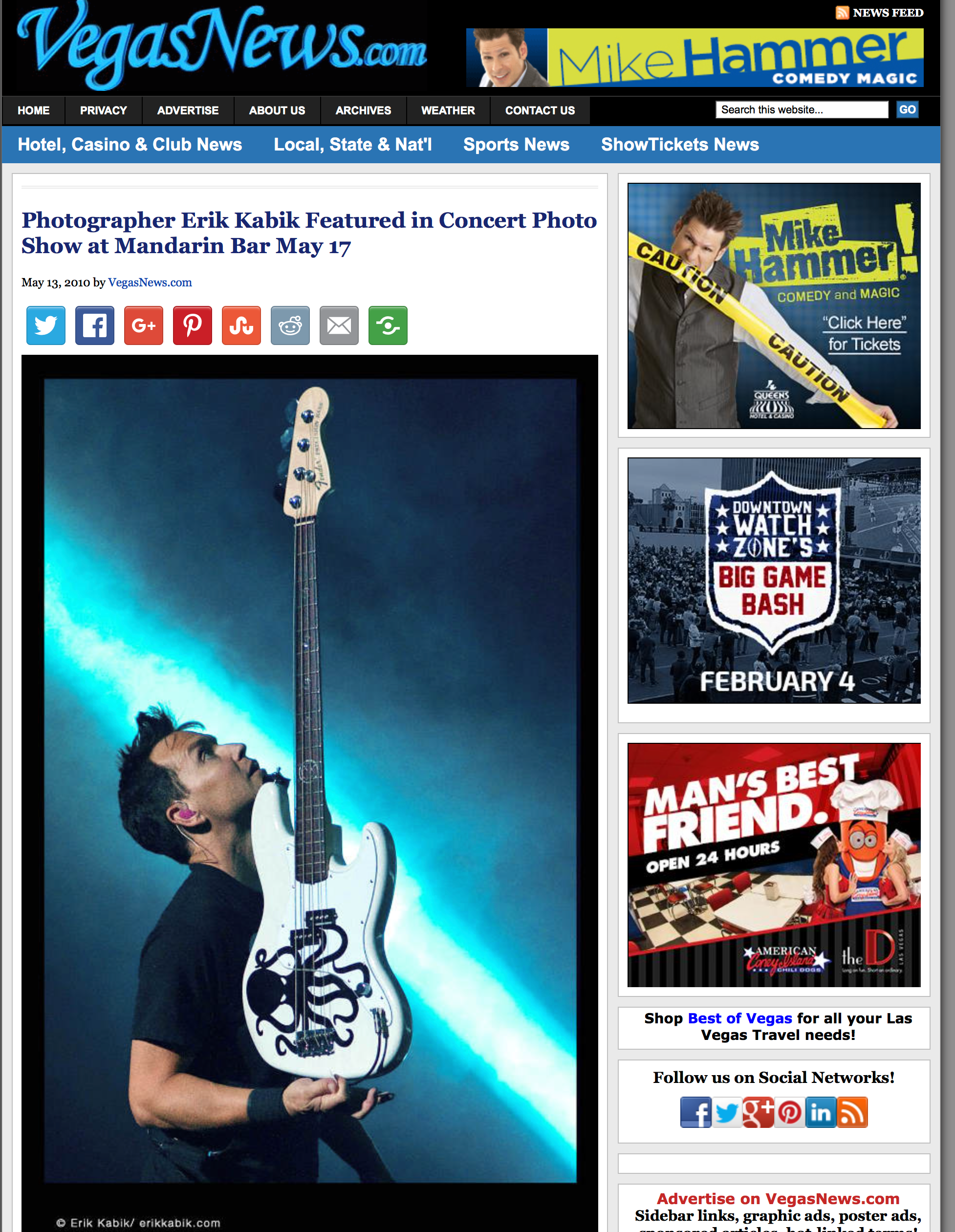 City Life:
Erik Kabik Co-Founds The Las Vegas Jamband Society


Please contact us at
erik@erikkabik.com
to request a referral or you can view referrals at Erik's Linked in Profile:
http://www.linkedin.com/in/erikkabik